BrickStudios Movie Tours!
(name pending)
We (Jeff and Lorelie) are coordinating a collab train layout for the Saskatoon, Moose Jaw, Regina Train shows and BRICKSPO that makes it easy for anyone to contribute, especially if you don't usually have something to include in a train layout or can't make every show but can still send a build along with someone else!
Each 48x48 baseplate (or multiples of) would contain an single movie scene - either as it is being filmed, or as an immersive experience for everyone riding the studio tour "people mover" train that goes around the table. Each scene is contained with walls on three sides and can be as tall as you wish, built up from inside edge of the arch standard.
See pictures below to see the spacing for the track and the design for the arches. We will supply all the track.
If you have an idea, claim either a corner or side spot(s) - you don't need to say what scene/movie you are doing if you don't want to, just add your name!
1 Club TableCorners
Corner 1 - Jeff
Corner 2 - Jason
Corner 3 - Lorelie
Corner 4
*Note that corner spots will have limited build space - may be good spot for entrance, concession, craft services, etc. ideas...
Sides
** Side 1 - Lorelie (48 x 48 only)
** Side 2
Side 3 - Jeff
Side 4 - Adam
Side 5 - Samuel
Side 6 - Ray M.
Side 7 - Colby
Side 8 - Kylie
Side 9 - Jason
Side 10- Trevor
If anyone else is interested we will inquire about acquiring a second, half or full table.
**if select side 1 or 2, it should include one 48 x 48 + one 16 x 48 plate side by side (total of 64 x 48)
Middle of the "donut":
tall
billboard/mosaics/signs - think Hollywood sign
or billboard with catwalk
or "Universal Studios" type entrance sign
or behind the scenes equipment, stars' movie trailers, etc...
(need to have more discussion to coordinate what might work - anyone interested in taking this on?)
2nd Club Table
- if there is enough interest (legs would need to be added to either a half or full table top)
Additional Side 1
Additional Side 2
Additional Side 3
Additional Side 4
Additional Side 5
Additional Side 6
More as needed...
The "Train"
Lorelie is making a train/people mover engine and some cars - people can make their own if they wish and we can switch them out over the course of the shows. Think the little white people mover train in Montmartre in Paris, or the classic old Disney people mover cars (google them!)
The Arch Standard & Placement
The general arch placement, shape, width, height etc. is to be the same on each connecting side of your baseplate. The colour scheme is totally up to you as suits the needs of your scene.
The overall height of the arch support is 13 2x2 bricks before the arch section starts. The arch is topped with 2 x # bricks for a total of 18 studs.
The side walls can be built into the arch support and is a minimum 1 stud wide - it is to be a distinct divider between the spaces.
A "retainer wall" one stud wide and 1 brick tall is to separate the track/arch section from your scene and runs parallel to the track (on the side sections) 17 studs in from the edge (flush with the inside edge of the far arch support). It can be tiled or a combination of plate/tile etc. if you wish.
The area around the track can be tiled or otherwise finished however you wish - just remember to leave the correct spacing for the track (three studs clearance on either side of the inside of the arch).
Let us know if you have any questions, further suggestions to improve upon the idea or need anything about the basic design standard clarified.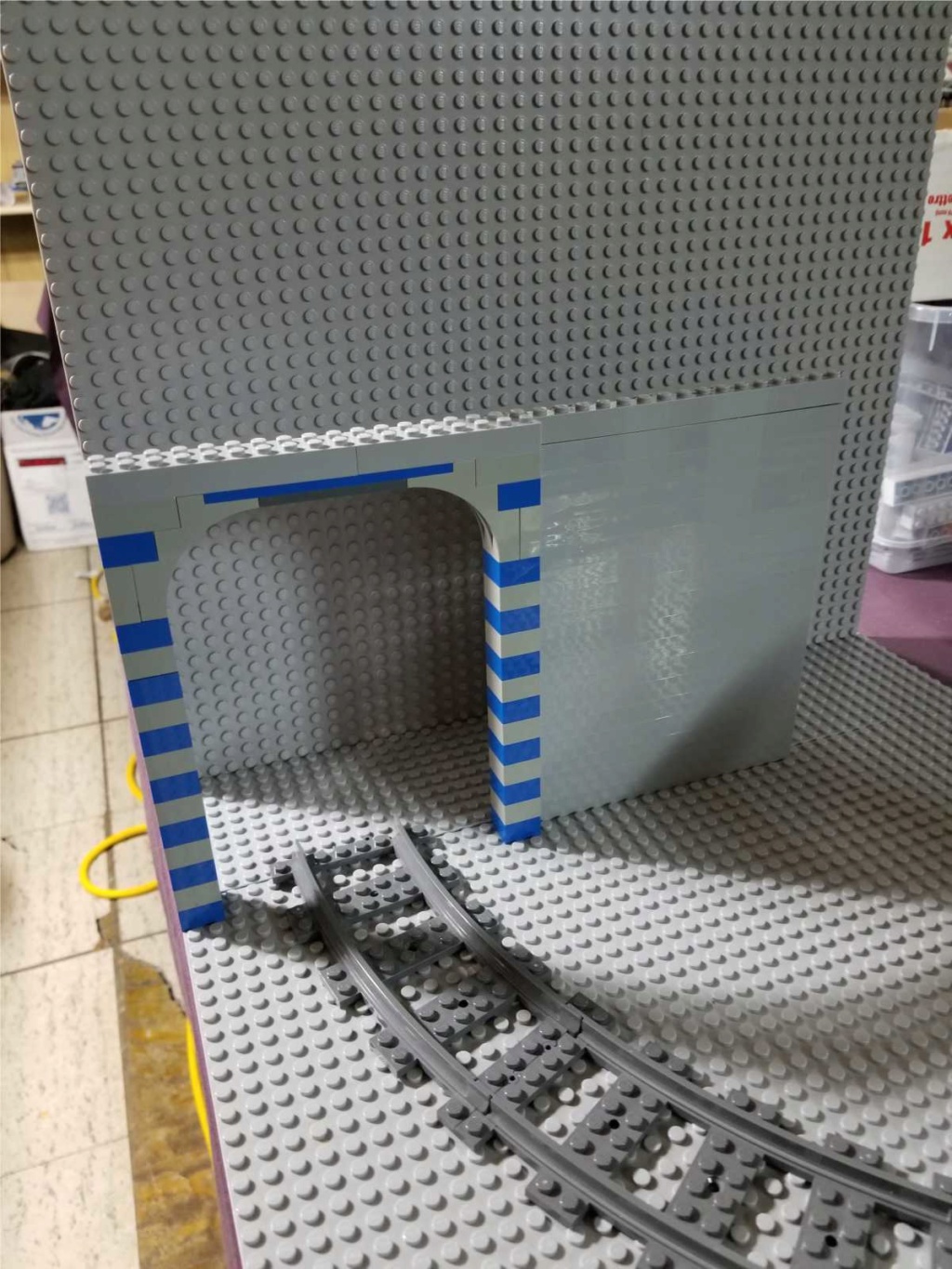 Last edited by lderoose on Mon Feb 18, 2019 12:15 am; edited 7 times in total

lderoose




Posts

: 12


Join date

: 2014-08-17



I am interested in taking part in this!
I hope to have something ready for the show in Saskatoon, but as I have my finger in a couple of other pies, it may be overcome by other obligations.
I had two thoughts of what to build, but only one that I can see clearly enough to complete at present.
It would take up a 'side', and therefore, I would like to claim
Side 4
.
My plan:
https://2warpstoneptune.files.wordpress.com/2015/02/cine-star-wars-1978.jpg
As the original was outdoors, I might go with a similar feel.
Watch for the beards.
Watch for the flannel.
I would love to participate in this collaboration! I'll take side 5.

I can't 100% guarantee that I will be ready by the Saskatoon show in late February, but I'll try my hardest. I probably won't be able to come to every show that the collab is in, so I will likely need someone to transport my build, if it's not too much trouble.

My theme will be Fantastic Beasts, and I'm thinking I will build an interior scene in Newt's suitcase. Be prepared for teleporting ducks and magic dung beetles!

Samuel

Sam_SLUG




Posts

: 1


Join date

: 2019-01-10



Put me down for a side. Haven't picked a movie but the plan is to do a rotating room from Inception or Spiderman where people are walking up the walls and onto the ceiling.... motorized of course.

kbrtosser




Posts

: 46


Join date

: 2014-07-16


Location

: Ray M. of Regina




---
Permissions in this forum:
You
cannot
reply to topics in this forum